How is your clothing made
It is important to us that you can better understand the origin and the manufacturing of your next clothing THITTI, so in a nutshell…
To start with, we are able to describe all the supply stages in the making of your t-shirt, such as the thread used to make the fabric.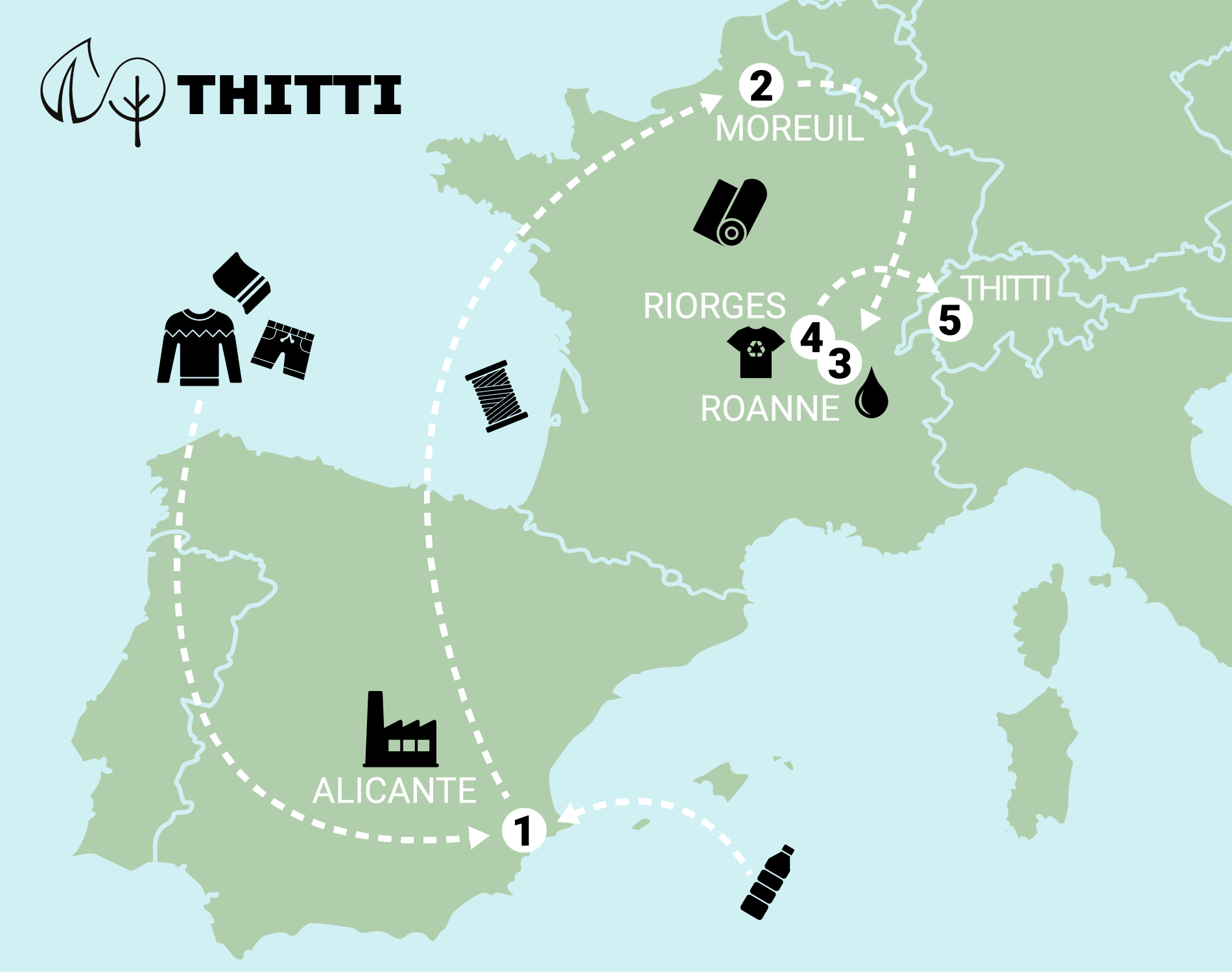 The first two steps are how the basic materials are collected :
- The plastic bottles from all around the world are sent to Asia to be transformed into fibers.
- The cottons come from the waste generated by the European industry and are also transformed into fibers.
1) Those fibers are delivered in bulk in the Alicante's region in Spain, via Belda Llorentz and Ferre to transform them in thread.
2) Once the recycled spool of thread ready, they are shipped to France for the fabric manufacturing, at Laurent Malterre's knitting workshop in Moreuil.
3) This fabric is then shipped to Matel's dry cleaner in Roanne, where it is washed in water to soften and stabilize it.
4) The adapted clothing workshop (in other words, the company offering a job to people with a handicap) Ithac in Riorges cuts and sews our clothes with our specifications.
5) The clothes are then sent to our warehouse THITTI in Switzerland.
Why make it with recycled materials
For us it was clear that the clothes we would offer would not be manufactured on the other side of the world with all the negative impact it would have on the environment.
Our research has lead us to the recycling topic that, for us, provide the best solution matching our locally manufactured goal, respectful, less polluting to our planet and all this using known and comfortable fabrics.
Not only can the manufacturing be done close-by, in short circuit, as we use materials we already have (throws of fabrics and pet bottles) that are transformed into fibers that can then be used to manufacture clothes. In this process, we highlight existing materials and we are more respectful of our planet.
The short circuit we have for the manufacturing of our t-shirts enables it to significantly shorten the distance it travels and hence reduces our carbon footprint.
On top of that, we save hundred liters of water and the use of pesticides and insecticides for the cotton cultivation.
For example, only 50 liters of water will be enough for the washing stage of one of our recycled t-shirt. No more needs of cotton cultivation that requires huge amount of water. On average, one need 2500 liters to manufacture a conventional t-shirt in cotton.
All of the above summarize a few positive aspects that recycling has, hence manufacturing our clothes in such a way.
We are conscious the textile industry pollutes enormously and we have to find better ways to our consumption and manufacturing of our clothes. 
But we will always look for better solutions to those problems and keep our values to look after our planet as well as we can.